Fasting Buddha in the Story of the Tibet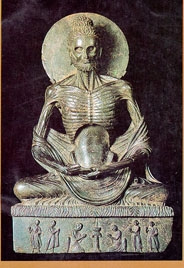 The Story of Tibet
Conversations with the Dalai Lama
"The 14th Dalai Lama's fresh account of Tibetan myth and history, as shared at Dharamsala over a three year period with Thomas Laird, is wonderful instruction and a great true pleasure, not less so because of the small informal moments that clarify these encounters with that delightful Buddha being who manifests in the beleaguered public figure of His Holiness."
–Peter Matthiessen, author The Snow Leopard, National Book Award winner.
"Thomas Laird's lively conversations with His Holiness the Dalai Lama about the history and mythology of Tibet couldn't come at a better moment, as China stubbornly persists in negating the distinctive Tibetan identity. The honesty, subtlety, and complexity of His Holiness' thoughts on these crucial matters comes through in these fascinating dialogues. Everyone who cares about Tibet, or about a stable peace in Asia, should read this amazing account." –Robert Thurman, author of Inner Revolution, Professor of Buddhist studies, Columbia University.
"Thomas Laird captures the beauty, the magnificence, the humor of this world spiritual leader, the Dalai Lama." –James Lilley, former U.S. Ambassador to China and South Korea, and author of China Hands: Nine Decades of Adventure, Espionage, and Diplomacy in Asia.
Il Mio Tibet
Conversazioni con il Dalai Lama
http://www.ilgiardinodeilibri.it

Anno: 2008
Prossima uscita
Aprile 2008
In un percorso fitto di riflessioni illuminanti ed episodi stupefacenti, il Dalai Lama racconta il Tibet come non era mai stato raccontato, e come poteva esserlo solo da chi incarna da secoli la memoria storica e la tradizione spirituale di un'intera nazione. L'orgoglio di una nazione oppressa e la sua storia millenaria nelle parole del Dalai Lama.
Nel 1643 il quinto Dalai Lama scrisse una storia del suo paese e del suo popolo: fu un gesto dal valore civile altissimo, che consentì alle popolazioni da lui governate di riconoscersi come un'unica nazione.
Oggi il quattordicesimo Dalai Lama ha deciso di affrontare la dura impresa di scrivere una nuova storia del proprio paese come forte e incisivo gesto di riaffermazione dell'identità tibetana contro l'oppressione cinese.
Nelle lunghe conversazioni con il giornalista Thomas Laird, sua santità Tenzin Gyatso ha ripercorso le vicende millenarie del popolo tibetano e della religione buddista: un racconto ricchissimo di storie affascinanti, costellato di grandi yogi e maestri di meditazione, imperatori e guerrieri, figure mitologiche e umili monaci.
Dall'invasione mongola del tredicesimo secolo a quella cinese del secolo scorso, dall'arrivo del buddismo dall'India nel settimo secolo dopo Cristo alla fuga del Dalai Lama nel 1959, la storia del Tibet racchiude in sé lo sviluppo di una spiritualità oggi universalmente conosciuta e amata, i cambiamenti di un luogo magico che ha ispirato e stregato l'Occidente per secoli, le difficoltà di un popolo oppresso ma fiero e indipendente.